My Stock Report Card for Jan – Dec 2017
US Stock
SG Stock
Total Dividend Collected between Jan – Dec 2017 : SGD $ 27,296.13.
Total Profit/Loss from Sales of Stock between Jan – Dec 2017 : SGD 120,423.21
This quarter, I added some Tencent, Intel and Alibaba during the minor market dip. Sold off the remaining Starhub shares (Profit : $20,032.63) when the CEO resigned.
What a year 2017 ! Crazy paper gains from my US portfolio. Expected disappointing dividend returns due to the sales of Starhub for my SG portfolio. Looks like I have to review and relook into my passive income investment strategy. I will probably keep more cash now and wait for a better market timing to rebuild my passive income. Thus, 2018's dividend income would probably be a disaster.
A shoutout to feedspot for nominating my blog as "Top 100 Singapore Blogs and Websites for Singaporeans". To be honest, I have been lazy in my blogging in the past year. However, whenever I thought of quitting, I will get a gentle private nudge from readers to check whether I am still alive ;-). That actually moved and motivated me to continue. Thank you to all who have reached out !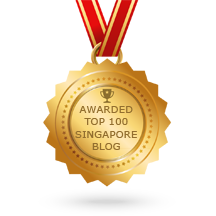 Sharing a beautiful song that has been looping non-stop in my playlist during the new year. Happy Wow Wow Year to all ! 😉
https://www.youtube.com/watch?v=VWUXzFWO8Rc&feature=youtu.be